Zoom webinars don't have to be (and shouldn't be!) difficult.
Ah, 2020 … the year when it seems like every month something happens to turn the world upside down and learn how to pivot to get used to "new normal" after "new normal," including the way we run our businesses and connect with customers.
Enter: webinars. Webinars are one of the most effective ways to connect with your audience and customers and grow your business online.
Zoom is one of the most popular tools for hosting webinars, and in this guide, we'll give you step-by-step tips on how to set up a Zoom webinar.
The first thought you might have is "But wait … do I even NEED to do a webinar? Can't I just create a meeting and go from there?"
The non-answer answer? It depends.
What's the Difference Between Zoom Meetings and Webinars?
Here's a simple breakdown of the differences between the two styles:
Zoom Meeting:
You can see everyone in the "room"

The environment is more interactive and collaborative

Everyone typically has an equal opportunity to speak
Zoom Webinar:
The host is usually the only one with their video or mic on

The environment is more educational

The host can control how the attendees can engage with you and each other

The settings are also customizable for audiences with options for branding, polls, Q&A and more
One trick to decide which type is best for you is to ask yourself, "How would this look if you were in person?"
If you're looking for more of an open conference room setting where people can share ideas, go for the meeting. But if you'd like to give a presentation or teach something, the webinar is your best bet.
Now that we're sure we want to create a webinar instead of a meeting, let's talk about the settings you can change to make sure the webinar runs as you want it to.
How to Set up Your Zoom Webinar:
To create a webinar in Zoom, you'll need to make sure you have the Webinar add-on package in a paid account.
Step 1: Schedule the webinar
The first thing you need to do is to schedule the webinar and decide on the initial settings. Just hit "Webinars" on the left-hand menu and "Schedule a Webinar".
From there, you'll get to a page where you can set up your initial settings:
These are just the basic settings. You'll see:

Topic

: Write your webinar title here

Description

: 1-2 sentences about your webinar.

When, Duration, and Time Zone

: Be sure to select the correct time zone!

Registration

: You'll want to

check

required

Webinar passcode

: You can leave this blank.

Video

: Typically you'll want to start with host and panelist video off

Audio

: This is where you can decide if you want people to be able to join by phone

Webinar options:

Q&A: Do you want people to be able to ask questions

Practice session: This will allow you to do a soundcheck and get set up before going live.

Only authenticated users can join: This controls who can access your webinar

Automatically record webinar: Check if you want to keep a recording of your webinar (which you should)

Alternative hosts:

if you have any co-hosts or people you want to have control of the webinar settings, enter their email addresses
Step 2: Set up the customizations
Once you've scheduled you're webinar, you'll be taken to a page where you can set up all kinds of customized goodness for your webinar. You'll see different tabs:
Invitations: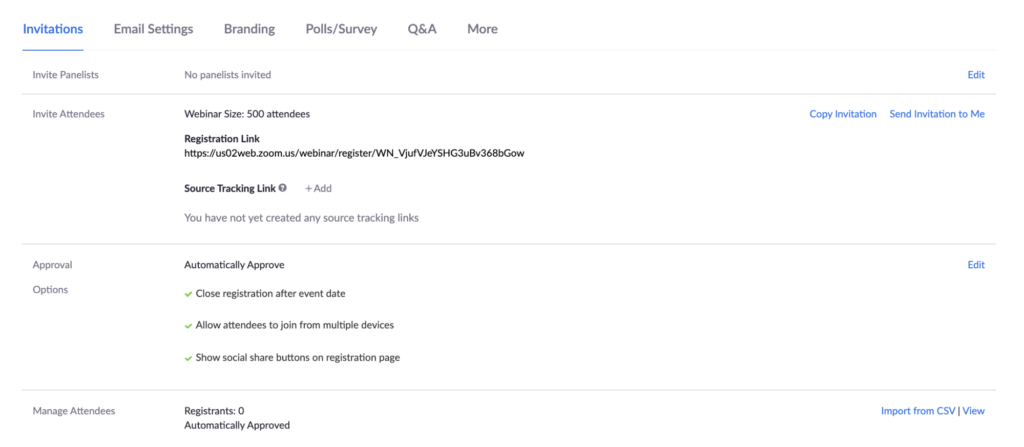 Invite panelists: If you're inviting a guest or panelist on to speak, enter their email here by clicking "Edit".

Approval: Here, you can change how you want your webinar accessed and shared. Want to limit the number of registrants? Just click on "Edit" under this tab to do just that.

Manage attendees: You can see how many people are registered, and after the webinar is over, download attendance and performance reports
Email Settings:

Choose when and how many emails you'd like your attendees to get depending on whether or not you're sending emails from your own email marketing system.

If you're sending reminder emails from your own platform, one confirmation email and a reminder email 1 hour before the webinar is all you need to select within Zoom.

If you're not sending emails on your own, you can schedule a confirmation email, one-day and one-hour reminders, as well as your follow up emails.
Branding:
Customize the look and feel of your webinar in this tab by uploading a promotional image, logo, and changing the colors.
Polls/Survey:
If you want to create polls or have a post-webinar survey, this is your tab!
Q&A:
The Q&A tab is where you'll decide HOW you want people to be able to ask and see questions. You'll be able to decide if you want questions to be anonymous, if you want people to be able to upvote questions, and if you want them to be able to see which questions have been answered.
More:
This tab is all about integrations, and if you'd like to integrate your Zoom account with an outside account, or set up streaming to Facebook Live or YouTube.
Step 3: Promote the webinar
Now your webinar is ready to promote! Just grab that registration link, and shout about it from the rooftops in your newsletter, on social media, and with colleagues.
Your Turn!
Next time you need to schedule a webinar, you might find yourself asking, "Now where was that setting again?" Check out our Easy Zoom Webinar FAQ with helpful at-a-glance FAQs so you always know right where you need to go! Want to run webinars, but know that technical back-end stuff isn't your thing? Don't worry—it's our thing.
Get tasks off your plate faster with the VA Starter Kit!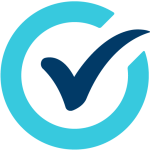 Ready to meet your perfect VA match?
Focus on your best. We'll handle the rest.