Subscribe to the Podcast!
Have you ever tried to run your business, keep up with your clients' ever-changing needs, follow the latest trends, and thought, "Can't I get some help around here?!" But perhaps you've shied away from asking for help because you're scared of the unknown or you're not sure how you can trust somebody to help.
Panic-Proof Radio is for you. We dive deep into the lives of entrepreneurs, speakers, authors, agency owners, professional service providers, VPs, and more to hear how they are working with a virtual assistant (VA), getting out of their own way, and living a life they love.
Get tasks off your plate faster with the VA Starter Kit!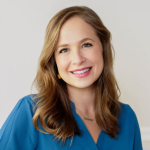 Jess Tyson, CEO & Director of Calm
Jess is the founder and proud Director of Calm at Don't Panic Management. (And yes, she invented that title because that's what you do when you're the boss!) She wrote the book on how building a successful relationship with a virtual assistant can make all the difference in helping business owners get to the next level. Her life is often a whirlwind of wrangling her toddler, speaking at conferences (virtual and beyond!), researching productivity hacks, and meticulously making matches between overworked entrepreneurs and focused virtual assistants. Jess's first book, Panic Proof: How the Right Virtual Assistant Can Save Your Sanity and Grow Your Business is available now: panicproofbook.com
Ready to meet your perfect VA match?
Focus on your best. We'll handle the rest.