You've bookmarked your favorite stock image resources. You've got a sprawling array of free images spread out before you. But where to start?
It's dangerously easy to waste time scrolling through uncategorized images, looking for the perfect one for your blog post or social share. Beware—all that scrolling can become a serious knock to your productivity!
Instead, start training yourself to spot great images quickly and easily. Here's how.
First, What's the Plan?
Where and how will this image be used? Keep the purpose of your image in mind as you browse.
Scan for images with the proper orientation. Are you creating an Instagram post? Look for images that lend themselves to square cropping. Is this a pin for Pinterest? Vertically-oriented images are your best bet. Need an image for a Facebook post or tweet? Stick to horizontally-oriented images.
Choose images with appropriate minimum dimensions. To make sure I'm downloading images that will be big enough for my project, I like to reference Sprout Social's comprehensive guide to social media image sizes. It's beautifully laid out and always up-to-date!
Will you be adding text? Keep an eye out for images that come with built-in negative space. Figuring out the best placement for text will be that much easier.
Don't worry too much about resolution—almost every image you'll find in a stock image catalog will be at least 72 pixels per inch, the minimum resolution needed to appear crystal-clear on a digital screen. You can always check by pulling up the image's Properties, either by right-clicking the image (for PC users) or control-clicking in an application like Preview (for Mac users). If you find an image with a higher resolution than 72, don't sweat it! Just remember that images with higher resolutions have larger file sizes, slower load times, and don't appear any clearer on digital screens. Stick to 72!
Signs of a Quality Image
A Clear Subject
Choose images that communicate a single, clear idea. That idea doesn't need to be an object—it could be a mood or an atmosphere (like "relaxed" or "Christmastime").
What idea will you be communicating with this piece of visual content? Play a little game of word association with yourself: What are the first three words that spring to mind when you say your topic out loud? Turn those words into search terms, and start scrollin'.
Proper Lighting for Photos
Nothing kills a quality photo like amateur lighting. Spotting poor lighting isn't difficult, but it does require a little eye-training.
Is a poor use of flash making objects look unnatural, like they've been caught in your headlights?
Is the photo overexposed in an unappealing way?
Tints and retro color filters are fun for Instagram, but are they appropriate for your subject?
Visual Interest
Think back to that single, clear idea you're trying to communicate. How effectively does your chosen image communicate that idea? Look for images that provoke an emotional response, present their subjects in an original way, and avoid cliché. We're all tired of the overused smartphone and business suit photos. Steer clear of predictable, lackluster subjects, and your image has a better chance of standing out.
Get Trendy
Feeling fancy? Want an image that's totally of-the-moment? Get familiar with some of the design trends you've undoubtedly seen circulating online.
Flat Design
When it comes to illustrations, skeumorphism is out, and flat design is in. Gone are the days of iOS 4's leather-stitched day planner and other such faux-realistic textures. A good, free illustration is hard to find, but if you've got the resources to spare, paid sites like BigStock have an incredible flat design library.
Candid, Not Posed
A stiff, posed model has become the hallmark of a bad stock photograph. You'll get more engagement from a candid, natural-looking photo.
Bird's Eye View
Many designers are using an aerial perspective to give their images a unique, minimalist look.
Now it's your turn to exercise that artistic eye. Get searching, and feel confident in your taste! Specific, well-informed search criteria and a little training are all it takes to make smart image choices.
Get tasks off your plate faster with the VA Starter Kit!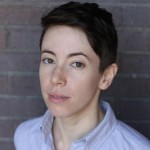 Meet Lee
Lee is a Brooklyn-based multi-hyphenate with a background in writing, design, media production, and the arts. Since 2014, he's been helping Don't Panic's clients launch books, start podcasts, design beautiful publications, and polish up their writing. Talk to him about Star Trek any time.
Work superpower: Finding the perfect word
Favorite cheese: Aged gouda
Go-to karaoke song: "Faith" - George Michael
Pronouns: He/Him/His
Beverage of choice: Ginger beer
Ready to meet your perfect VA match?
Focus on your best. We'll handle the rest.